Help your child through a grieving process and create fond memories of the person you've lost.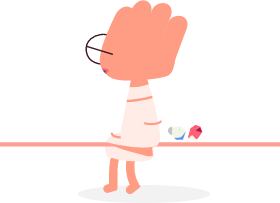 Work with your child's grief.
A research-based psychological programme that can help your child through a grieving process and create fond memories of the person they lost – and which teaches you how to support a child in working with their grief.
"If I hadn't started a discussion, he'd never have had that crash…"
"If I'd just cleaned up my room like she said, this would never have happened…"
If your child has experienced losing a person who was close to them, it can be difficult for the child to find out what is up and down.
Maybe your child blames themselves for the loss. Children and young people often do – especially if they lack information about what happened. Therefore, it is important that you as an adult are honest and open about the circumstances. And that you stress to your child that nothing that they said or did caused the death.
When in grief, your child's feelings can feel like tidal waves. They can feel heavy and it can be hard to get back up. But it's a bad idea to hold waves back. At some point, your child will no longer be able to carry the weight of the waves anymore, and then they will hit with even greater force.
If your child is grieving, it is a good idea that you support them in working with the grief. Your child must learn that their reactions are normal, and that grief is a process that is necessary to go through. Your child will also learn some exercises that will make difficult thoughts easier to deal with.
In Myinnermes' programme about grief, you and your child get psychological knowledge and advice to work with grief via a research-based method. You learn about the function of grief, what grief does to the body, and you get strategies to turn bad thoughts around and get your child through the grieving process in a healthy way.
The programme may serve as a supplement to current treatment. It may also be for you who are waiting for treatment for your child. Or for those who just want to work with your child's – and your own – grief with the flexibility and confidentiality a digital solution such as Myinnerme provides.
A wounded soul
You could say, that grief is like having a wounded soul: It's a feeling of being extremely sad and missing someone so much it seems unbearable. Grieving is a natural response to having lost someone you were close to. But your child can also be grieving something other than the death of someone.
Maybe your child's best friend has moved far away so they can no longer see each other? Perhaps you and the child's other parent have got divorced so you can no longer live together as a family? Maybe your young person has split up with their boyfriend or girlfriend and experiences a broken heart?
Grief is often associated with something negative and sad. But grieving can also be a good thing: When you're grieving, it means that you loved someone – and that you are able to love. This is a wonderful thing to be able to do.
Often the feeling of grief can be compared to getting badly injured. A broken arm needs to be put in plaster for extra support and given plenty of time and rest to heal. A broken arm hurts most in the days or weeks after the accident; but as time goes by, it hurts less and less. One day, your arm is healed, and the plaster can come off. Perhaps you have a scar from the fracture. This scar will always be there – just like the memory of the person you lost.
In the beginning, grieving can be very difficult. Young people who have lost a person who was close to them are more likely to get themselves involved in crime. And teenagers who have tried to drink alcohol or take drugs may want to use it even more to escape from all the hard things. But it is dangerous and an unhealthy way of dealing with grief.
No matter how hard your child is affected, it's important that you don't leave him or her alone with their grief. You must give your child support and attention. You learn to do that when you work with the grief through the grief programme in Myinnerme.
Help your child through the hard times
We have taken everything we know about child psychology, teaching and digital communication to design an effective and flexible programme for you and your child. The goal is to create a nice and safe place where your child, with your support, works with their grief and the difficult feelings, so their loss will eventually feel acceptable.
The programme uses psychoeducation, cognitive behavioural exercises and diary writing.
Through psychoeducation, your child learns what grief is, how grief can feel and why it's like that. With cognitive behavioural exercises, which is one of the most widely used psychological treatment methods worldwide, your child is guided to develop strategies to deal with their grief. And through diary writing, your child gets in touch with their inner world and gets to work on their thoughts and feelings.
The programme is divided into 16 sessions based on psychological research results and several years of clinical experience from working with children and adolescents.
Through the programme you learn about issues such as:
Through the programme you learn about issues such as:
The function of grief and why it is also a good thing.
That it's important that you acknowledge your child's grief – no matter who or what they have lost.
The typical reactions your child can have when they are grieving.
How a memory flower can help your child paint a picture of the person they have lost.
The five stages of grief your child goes through – and why you should not try to rush through the phases.
The bodily reactions your child may have to grief.
Loss, shame, anger and the mishmash of different feelings your child may have as a consequence of the loss.
Why it's important that you pay attention to your child's feelings and try to address them when they're there.
The extrovert and introvert reactions your child may have to the grief.
That it is important to talk to your child and involve them in the difficult things instead of shielding them from them.
That it is important to avoid telling magical tales like "Mum has gone on a journey" to young children when they have lost someone.
What can calm your child if they fear that they'll forget the person they lost or are afraid of losing again.
The three typical thought traps that make the child think negatively about grief and how you can help your child out of them.
Why it might be a good idea to write a letter to the person they lost.
That it is a good idea to make a memory box containing both good and bad things about the deceased.
Ideas for memory rituals that allow your child to express what he or she feels about the loss.
That it is a good idea to arrange daily breaks from grief – especially at the beginning of the process.
How you can help your child maintain the good results you've achieved through the process.
The programme runs in two parallel tracks. One for your child and one for you, so you can support your child in their healthy development.
Thank you MYiNNERME, for helping me understand my child through one of their toughest journeys in life. Keep up the good work and I'm looking forward to even more courses being released!"
"The App has given me valuable insights into the at times difficult emotions going through the mind of my troubled youngster during his move into adolescence.
"Great app to deal with kids and emotions"
"Fabulous App that helps children struggling with difficult emotions"
"I love this app it's so helpful physically and mentally I used to be depressed but I went to therapy once a week and used this app every single day I still do and it still helps me on my long road to recovery 💖"