Get help with your Covid-19 concerns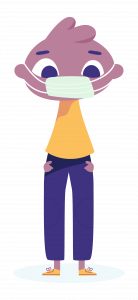 Covid worries
A new world
In these times, it is only natural that we all experience stronger feelings of stress, sadness and depression. We may feel more powerless and think that the world and the future have become more difficult to look at and live in. That's why we've developed a programme about Corona worries that we hope can help reassure our children and youngsters.
How do you react?
Whether you actually have symptoms of Covid-19, or you have a current medical disorder, is not the most important thing when it comes to health anxiety. The challenge is how to respond and manage your symptoms or condition. If you respond by worrying – or with checking or avoiding behaviour – then health anxiety can be your problem.
Negative thoughts
Particularly in these unstable, unpredictable pandemic times, more people are affected by negative thoughts and perceptions about who they are, how they feel and what they can do to get better and manage their mental health.
Many Google searches
You may often find yourself looking online for something that can help, or that offers you a solution which you can help yourself with. That is why we have made a checklist for this programme about Corona worries, that will help you decide if you should learn more about corona anxiety and what you can then do, if you have this kind of worry.
We all think about our health sometimes – and that's very smart. But sometimes this can take up too much mind space: This can be an indication that there are many emotions inside you that need to be examined, and which perhaps you need to talk more about – everyone reacts differently.
Checklist
Consider whether you would answer yes or no to these statements:
I'm worried about my health
I'm worried about whether I have, or will get, Covid-19
I'm worried that my bodily signals mean I'm seriously ill
I'm having a hard time controlling or letting go of my worries about Corona
I mentally scan my body and my thoughts to see if there is something seriously wrong
I focus my attention on my bodily signals
I often consult my doctor to talk about whether I have Covid-19 and I often get tested
I avoid my doctor because I'm too worried that I have Covid-19
I keep worrying about having Covid-19 even though I've tested negative
I avoid people, places and activities that trigger certain bodily signals because I'm afraid of the bodily signals

Get help with your Corona concerns
If you answer yes, often or fairly often to most of the questions above, we recommend that you work with your Corona anxiety. It can be helpful for many people to learn how to handle different worries and begin to think about – and try out – different things when they are having a hard time. That's why we've developed a short programme about Corona worries, which you can listen to in the app.
You can also use the exercises to help yourself settle down in a world with Corona. Many children and adolescents may benefit from going through the exercises and then thinking more about how they relate to their feelings in a time of crisis with a threat that is invisible.
Thank you MYiNNERME, for helping me understand my child through one of their toughest journeys in life. Keep up the good work and I'm looking forward to even more courses being released!"
"The App has given me valuable insights into the at times difficult emotions going through the mind of my troubled youngster during his move into adolescence.
"Great app to deal with kids and emotions"
"Fabulous App that helps children struggling with difficult emotions"
"I love this app it's so helpful physically and mentally I used to be depressed but I went to therapy once a week and used this app every single day I still do and it still helps me on my long road to recovery 💖"